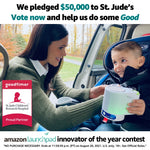 Goodtimer Pledged $50,000 to St. Jude's. Vote Now to Help Them Do Some Good
Amazon.com established the Amazon Launchpad Innovation Grant program to inspire the success of big ideas that come from small brands. In March of this year, Goodtimer was selected from thousands of innovative products as a Launchpad Innovation Grant winner and is now one of just 14 finalists in the 2021 Amazon Launchpad Innovator of the Year contest.
Voting by the public opens August 1st and if Goodtimer is voted the winner, we plan to contribute the $50,000 contest prize to St. Jude Children's Research Hospital one of the most beloved and trusted children's charities.
About Goodtimer
Launched in 2019, Goodtimer is family-owned small business created by parents for parents to help kids learn healthy habits that last. We believe that better behavior and impactful parenting are possible without sacrificing established boundaries or a peaceful home.
Proving that technology really makes an impact, Goodtimer is like a chore chart reinvented for modern families. Kids respond to Goodtimer's brightly glowing lights, token incentives, and encouraging voice, with game-style functionality that's interactive and simple enough for toddlers to understand. The result is one easy-to-use educational product that provides children with a consistent framework for success.
With Goodtimer's patented approach, everyone is on the same page, and families can rely on the consistency and confidence that Goodtimer brings. The goal of Goodtimer is for a child to earn Good Time by following the family's house rules. Each Goodtimer includes tokens that a youngster receives after earning Good Time. They can save their tokens and exchange them for incentives decided by the family. Additionally, every Goodtimer package includes a children's book entitled The Clockmaker's Creation that tells the product's charming back story. Parents and kids obtain guidance and worksheets to incorporate Goodtimer into the family's day-to-day routine.
Use Goodtimer to address nearly any behavior your child is learning.  From picky eaters to bedtime battles, Goodtimer will encourage a child to make good choices all day long.  Easily adjust the difficulty setting, and Goodtimer will grow with the child as they reach new developmental milestones.
NO PURCHASE NECESSARY. Contest Ends at 11:59:59 p.m. (PT) on August 20, 2021. U.S. only. 18+. See Official Rules.