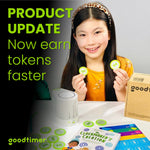 Product update: Now earn tokens faster!
Our team strives to connect with Goodtimer families to understand how they're using Goodtimer so that we can make it an even better solution for families.  When we talk to parents about their experience, one suggestion frequently comes up: 
"I wish I could adjust the difficulty setting to earn tokens even faster"
Well, today we have some good news! We took your feedback to heart, and effective December 1st, all new Goodtimers will include a software update allowing kids to earn one token in just three hours, two and half times faster than before. 
You might be thinking: "How did they come up with one token every three hours?"  
Earlier this year, we polled the growing community of Goodtimer families and asked for their input on what the ideal time to earn tokens should be on the easiest difficulty setting.  As you can see from this Facebook poll, the overwhelming majority of families recommended one token every 3 hours. 
We created Goodtimer to help kids learn healthy habits that last and we're committed to continuing to develop positive parenting solutions that are effective, safe, and fun for the whole family. We're very proud of the positive feedback we've received from Goodtimer families and we also believe there's always room for improvement.  Our team is working hard to launch new products and services to help parents achieve a more peaceful home and connected family. 
We anticipate you may have some questions related to this software update, so we have created the following FAQ section.  Please don't hesitate to reach out to our team if you have any other questions or if there's anything we can do to make your family's Goodtimer experience more enjoyable. 
Goodtimer Software Update FAQs
With the new software update, how many tokens will my child earn on each level?

Level 1, up to 8 tokens/day
Level 2, up to 7 tokens/day
Level 3, up to 6.5 tokens/day
Level 4, up to 6 tokens/day 
Level 5, up to 5.5 tokens/day
Level 6, up to 5 tokens/day
Level 7, up to 4 tokens/day
Level 8, up to 3.5 tokens/day
Level 9, up to 3 tokens/day 
Level 10, up to 2 tokens/day

I ordered recently: How can I tell if my Goodtimer has the new software?

There is a serial number on the bottom of every Goodtimer and if you email our team at hello@gogoodtimer.com with the serial number and purchase date, we'll confirm that you have the new version.  Another way is to set your Goodtimer to level 1 and note the time. On level 1, it takes just 15 minutes for one of the 12 segments to be earned.  When a segment is earned Goodtimer will chime and an encouraging voice will play through the speaker and the next segment will begin to glow. If it takes longer than 15 minutes on level 1, you have the old version of the software. 

Can I update the software on my existing Goodtimer?

Unfortunately, Goodtimer has no way to update the software to the new version.

If I have an old Goodtimer can I exchange it for a new one?

Unfortunately, we can't exchange your Goodtimer for a new, but if you have already purchased a Goodtimer, email our team and we'll do our best to give you the best price possible on a new one.  

If I have questions about the software update who can I contact?
How can I learn about future product updates?

To learn more about future product updates subscribe using the form in the footer of our website at

www.GoGoodTimer.com

.