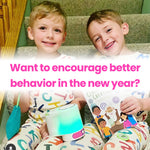 Four Tips to Encourage Better Behavior in the New Year
If you're a parent of young children, the holidays can be a wonderful time and there's nothing quite like watching your kids' faces light up when they run to see what Santa left in their stockings.  Fast forward to New Year's Eve, after a week of holiday chaos and a disrupted family routine, many families struggle with challenging new behaviors like tattling and temper tantrums.  Come New Years Day, many parents will being making a New Year's resolution to get their family back on track.  If you're new to Goodtimer or just need a refresher, use these four simple steps to encourage healthy habits that last all year long:
Set your house rules - First, the family creates their unique house rules, and the incentives kids can earn while reading the Goodtimer children's book.  It's important to include kids in this step. Asking them questions about which rules are important and why allows them to have a vested interest in their role in the household. Then, include them in what their incentives are going to be. If they help pick the incentives (such as a special play date with mom), they are more motivated to want to achieve the goal they had a hand in choosing.
Maintain the momentum - Once everyone agrees on the house rules, it's time to start earning "Good Time." Simply flip Goodtimer right-side-up to get started.  It's that easy!  When your child follows house rules, Goodtimer's 12 glowing segments light up one-by-one, visually demonstrating that they're making good choices.  Goodtimer also has encouraging voice prompts which remind your child to keep at it. Once all 12 segments are illuminated your child will earn a token they can save and exchange for the fun incentives that your family chose.  Kids love Goodtimer because it provides a foundation for them to succeed, and parents love it because they don't have yell, nag and be the bad guys!
Use positive discipline to keep your kids on track - You might be wondering, "What happens if they don't follow the rules?" Simply instruct your child to flip Goodtimer upside down to pause Good Time. Once your child acknowledges which house rule was broken and make amends for their behavior, they can flip Goodtimer right side up again and resume earning Good Time. The physical aspect of having to flip the device reinforces that they weren't following the rules and turning it right side up again helps them make the connection between good choices and positive outcomes. With Goodtimer's patented approach, everyone is on the same page, and families can rely on the consistency and confidence that Goodtimer brings.
Get support when you need it - Join the The Goodtimer Village Facebook group, exclusively available to Goodtimer families and connect with other families who believe in using positive parenting to form good habits that last. Not every day will be good, but there is good in every day. Hang in there and know that you're not alone. With support from your community and consistency, Goodtimer will help you achieve a more peaceful home and connected family.
Use Goodtimer to address nearly any behavior your child is learning.  From picky eaters to bedtime battles, Goodtimer will encourage a child to make good choices all day long.  It's a New Year and a perfect time to start some healthy, lasting habits with Goodtimer.