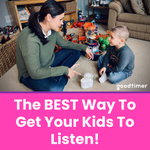 The BEST Way To Get Your Kids to Listen!
Written by Maggie Cerria
Reviewed by Ali Kresch Levine, PsyD
"Stop yelling. Don't do that. No jumping. Don't hit him!"  Sound familiar? We get it! Sometimes our first instinct is to yell at and nag our kids when undesired behaviors show up.  What if we told you there are ways parents can use positive language to get kids to listen more often. "Positive language will tell a kid exactly what you want them to do, rather than demanding what they should not do."  
It's recommended that every family should create house rules that are consistent with their individual values using positive language. Here are some great ideas for making your house rules using positive language. 
Don't hit her! - Be gentle.

Stop being mean! - Be kind. 

Stop yelling! - Use quiet voices. 

Don't make me tell you again! - Be a first-time listener.

Stop eating candy! - Make healthy choices.
Phrasing your house rules with positive language "do" statements rather than negative "don't" statements will allow everyone in the family to understand what is expected of them. Display the list of rules where everyone can see it so everyone stays on the same page. If your children are too young to read you can include simple pictures to help them remember. Setting clear expectations is the first step to forming good habits that last. Encouraging kids with the use of positive reinforcement when following your house rules can increase their engagement and motivation to continue making great choices.  Goodtimer is a great family game the whole family can play to help inspire kids to build great habits when following your house rules. 
We all know there is no instruction guide that arrives in our mailbox when we begin raising children. Using positive language to encourage your kids to make great choices while involving them in a fun and engaging game that provides positive reinforcement to motivate them to keep at it can inspire your kids to be awesome listeners!