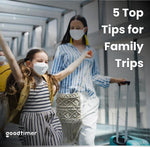 The 5 Best Tips While Traveling with Kids
Written by Maggie Cerria
Reviewed by Ali Kresch Levine, PsyD
Do family vacations stress you out?  Gearing up for a family getaway can often lead parents to feel overwhelmed and anxious when traveling away from home, especially while experiencing the COVID-19 road blocks that have hit us hard this past year. Now that there are vaccines available, follow these easy tips to help ease the stress and connect as a family with your kids of all ages while venturing out whether it's near or far.
Set Expectations.
Set a simple itinerary and keep kids in 'the know' before heading out for a family vacation. It allows your kids to be one step ahead of the game when they know what is going to come next. This article written by Steve Larese with The Travel Channel shared a great example of talking to your kids about what to expect when flying on an airplane. Review the baggage check-in, ticketing, boarding procedures and even stress the importance of good behavior when flying. It will help set the expectations for kids when flying the friendly skies.
Pack Light.
Try to pack just enough for the trip. Check the weather forecast of your destination for the length of your stay and try to pack enough without bringing too much. Kids love to pack 'stuff,' but encouraging them to bring only what they need will allow for easy handling of suitcases, and will leave room for a souvenir or two! A small bag with kids' activities, snacks, and headphones can travel with your kids during the long flight or car ride to provide some entertainment so you can sit back, relax, and enjoy the adventure.
Ask for Help.
Kids can easily pick up when parents feel stressed which can lead to challenging behaviors. Try to remember to give yourself a break, take a deep breath, and ask for help when needed. Airline attendants have plenty of experience when it comes to keeping kids happy and entertained on long flights. If you are taking a long road trip, be prepared to stop along the way so kids (and parents) can get out of being cooped up in the car to stretch their legs and get some fresh air.  
Rule Refresh.
Start each day with a refresher of your house rules. The same rules expected at home should still apply to help ensure your kids are continuing to build awesome habits and behave appropriately whether they are on vacation or at home. Goodtimer can travel with you wherever the day may take you to inspire kids to follow your house rules and make great choices while on vacation.     
Have FUN!
Vacations don't need to be pricey. You may not realize how much fun you can have on vacation as a family with nothing more than a delicious ice cream and a deck of cards. Enjoy the small moments, build the memories, and connect as a family, because that is what family vacations are all about!
We hope these tips will help ease the stress when taking a family vacation with your kids.
Setting expectations, packing light, asking for help, refreshing the rules
,
and having FUN
will help you set up for success and avoid the stress when traveling with your family.