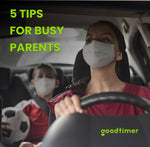 The 5 BEST Tips For Kids' Activity Schedules
Now that there's a vaccine, it feels great to venture out of the house and resume after-school activities; but it may feel like you're constantly shuttling the kids from one place to the next. If so, you're not alone! It's hard to manage the hectic schedules, meals, and car rides to and from all of the lessons and practices. Have no fear; This amazing article by Holly Homer has some great ideas to set your family up for success. Here are 5 simple tips to help create a plan to manage your family's busy schedule. 
Plan - Family meetings sound cheesy?  Go for a 'Donut Date' or 'Coffee Convention'… whatever you want to call it, just sit the family down at the beginning of the week and talk about the upcoming practices, games, and classes. This way everyone in the house is on the same page.
Ask for Help - Friends, Neighbors, and even Grandparents can be a great resource when it comes to getting everyone where they need to go. You can even try reaching out to parents on your kids' team to help with the carpool. Don't be shy, parents with multiple kids in activities are in the same boat as you, and you can return the favor on another night.
Be Prepared - Make a quick and easy meal plan for weekly dinners. Simple and healthy recipes will take the stress out of cooking but save you from yet another expensive, and unhealthy fast-food order. Let your children know the expectation of staying organized. Encourage them to keep their belongings in their own bags so it makes it easier to get to practice if you have to get out the door quickly.
Stay Together - Let the kid's activities connect you as a family rather than cause chaos with hectic schedules and missed family dinners. Got 15 minutes between practices to meet up and have a picnic in the parking lot? Embrace it! Noone said kid's activity schedules would be easy: just roll with the punches and eat dinner on a blanket; it'll save you the kitchen cleanup and the kids will think it's an awesome adventure!
Know your Limits -  Remember, it's supposed to be fun, but don't be too hard on yourself! Sometimes the whole family just needs a break from the hectic schedule. If so, be sure to plan ahead and let the coach know if you'll miss a game or practice.
Don't let the stress of kid's activities cause tension at home. Try these 5 simple steps to help create a peaceful and organized schedule for your kid's activities. Finally, Goodtimer can encourage kids to take care of their belongings by keeping all of their gear organized to show responsibility when they show up to their activities with all required supplies every time. It will also inspire kids to keep a positive and willing attitude when navigating their active schedule. Now let's have a Good Time!